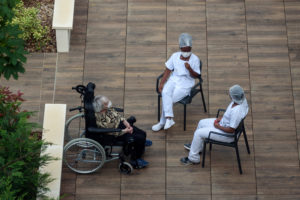 New numbers indicate that a fifth to half of all coronavirus cases in the world have occurred in nursing homes or long-term care facilities. As we discussed earlier this month, nursing homes have felt the brunt of the virus here in the U.S. Since the beginning, these facilities have been viewed as somewhat of a 'ground zero' for the novel coronavirus. There have been countless disturbing stories in the news about how the virus has impacted these facilities, and many experts note the official numbers will likely be much, much higher. It is important to note that the United States isn't alone in this plight — Europe's nursing home residents have also felt the repercussions of the virus.
At Wormington & Bollinger, it is our goal to ensure our clients stay informed and have access to resources that will support them. The long-term impact of the coronavirus is still unknown, but what we do know is that it has claimed the lives of more than 60,000 Americans, many of whom resided in our nation's many long-term care facilities. As many states begin to reopen – including Texas – we will be closely monitoring the situation. If you recently lost a loved one who was living in a nursing home, we encourage you to contact us and schedule a free consultation. Your well-being is a top priority of ours, and we are here to support you; however, we can as we all adjust to this 'new normal.'
COVID-19 in the U.S.: A Timeline
The first confirmed positive case of the coronavirus in the U.S. can be traced to a 35-year-old man who had just returned from visiting family in Wuhan. That was January 20, 2020. He had fully recovered by February 21, and the 60 people he had encountered were all screened and tested, yet none developed the virus. Although reports from the case indicate that all proper steps were taken by healthcare workers monitoring his condition at Providence Regional Medical Center in Everett, Washington, it wasn't enough to stop the fast-moving virus.
By mid-February, firefighters in Kirkland, Washington, were answering frequent calls to one particular nursing home where residents were complaining of respiratory problems. Soon, the Seattle area became the epicenter of the most severe U.S. outbreak of the coronavirus, and the majority of those experiencing symptoms and dying were nursing home residents. On February 29, public health officials in Seattle and King County confirmed the first death from COVID-19 at Evergreen Health in Kirkland. Following the death of the first patient, dozens of residents reported symptoms at Life Care Center in Kirkland, which is about 20 miles from downtown Seattle. The virus quickly spread from there, eventually finding its way to all 50 states.
Nursing Homes and COVID-19
Unfortunately, it is challenging to determine the exact impact of the virus on long-term care facilities. Officials cite a failure to count COVID-19 these deaths as one of the biggest reasons for the discrepancy in numbers. Many states are not reporting nursing home deaths, and Texas families have been met with frustration as officials still won't say which facilities, exactly, have had COVID-19-related deaths. Sadly, there's a good chance the numbers are far worse than we think; some predict the numbers could be off by tens of thousands.
Misinformation is plentiful in the wake of the virus, causing unnecessary confusion and putting many at an even higher risk. For our nation's nursing home residents – an already vulnerable population – the virus has wreaked havoc. Residents are dying at an alarming rate, and family members have lost loved ones without the chance to say goodbye. This is a significant problem on many levels.
U.S. Tops One Million COVID-19 Cases
At the end of April, officials announced the number of coronavirus cases had reached 1,002,498, with 3,083,467 cases worldwide.
COVID-19 Safety Tips
Families with loved ones living in nursing homes are understandably worried about the health, safety, and overall well-being of their loved ones as we enter the fourth month of dealing with this virus. The Centers for Disease Control and Prevention (CDC) has imposed visitor restrictions, preventing any outside individuals from entering these facilities to stop the spread and protect residents, their family members, and staff. The following protocols have been put in place for long-term care facilities as a comprehensive response plan to the virus:
Accelerated identification of symptoms
Rapid management and isolation of any and all residents displaying symptoms
Specific protocols and regulations for anyone entering the facility
Abundant supplies and resources
Health considerations, such as sick leave for any staff members displaying symptoms or feeling ill
Training and education for staff
It is imperative these facilities take action rather than waiting for the potential symptoms to appear. By taking a proactive approach, we can better protect these individuals and others. If you or a loved one has been affected by COVID-19 and would like to discuss your case with an experienced McKinney medical malpractice lawyer, please do not hesitate to contact Wormington & Bollinger. We will continue to monitor the pandemic and are committed to informing of any changes in this global pandemic.