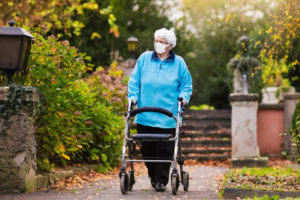 The coronavirus (COVID-19) continues to wreak havoc on the world, including right here in McKinney. Last week, the local news station reported that eight McKinney nursing home residents died from the novel coronavirus, bringing the total number of Collin County deaths to 14. There are nearly 600 confirmed cases of COVID-19 in the county, with two new cases in Frisco announced just yesterday. Residents at the Oxford Grand, a long-term nursing facility in McKinney, have been under lockdown since mid-March when the outbreak first emerged. According to the facility's operators, 13 people tested positive for the virus. The remaining five individuals have been isolated away from the remaining residents, and the Oxford Grand is following all CDC guidelines in light of the outbreak.
Wormington & Bollinger is closely monitoring the ongoing pandemic and will continue to do so as Governor Greg Abbott's stay-at-home order expires on April 30. While schools, bars, restaurants, and many other non-essential businesses will remain closed, the governor is taking steps to reopen the state slowly. Like many industries across the nation, the pandemic has undoubtedly impacted how attorneys conduct business. We have seen fewer cases throughout the state, and many courthouses have closed. However, as the Lone Star State slowly begins reopening, we expect courts to prioritize cases and hearings to continue.
If you need legal assistance and are unsure how to proceed, we encourage you to contact Wormington & Bollinger. We offer consultations over the phone and are here to help you understand your rights and next steps. These are stressful, unprecedented circumstances that will have a long-lasting impact on the economy, businesses, and personal lives. Our McKinney attorneys are here to help and will do everything we can to support you. If you lost a loved one to COVID-19 because of the misconduct of those caring for your loved one in a long-term care facility, give us a call.
COVID-19 in Texas
As Texas begins to reopen, several new deaths and coronavirus cases have been reported, giving pause for concern. El Paso reported four deaths and 30 new positive cases on April 29, just one day before the state's stay-at-home order was set to expire. On Tuesday, April 28, Dallas County reported its most significant increase in COVID-19 positive cases with 112. Of the 1,225 nursing homes in Texas, 356 have reported at least one positive COVID-19 case. Dallas County has reported more than 3,350 cases, which is about 1.27 for every 1,000 residents.
The following Dallas County long-term care facilities have had at least one positive case, and many have seen multiple deaths, including Monticello West with 31 cases and 15 deaths:
Brentwood Place One
Skyline Nursing Center
Monticello West
Duncanville Healthcare and Rehabilitation Center
Brentwood Place Two
Edgewood Rehabilitation and Care Center
The Reserve at Richardson
Edgemere
Presbyterian Village North
The Avenues of Park Forest
The Village at Richardson
Winters Park Nursing and Rehabilitation Center
Avante Rehabilitation Center
Balch Springs Nursing Home
Grand Brook Memory Care
Lakewest Rehabilitation and Skilled Care
St Joseph Village-Coppell
The Madison on Marsh
The Villages of Dallas
COVID-19 and Nursing Homes
Sadly, nursing homes throughout the United States have become ground zero for COVID-19. Take your pick of the many horror stories out there – from 17 bodies found in a shed in a New Jersey long-term care facility to healthcare workers in New York describing nursing homes as "nothing but death." As seen from the above statistics, Texas has also seen its fair share of positive cases and deaths at nursing homes. One of the biggest takeaways from this is that the coronavirus is far more transmissible than originally thought, and it can be deadly to vulnerable demographics.
Determining the exact number of nursing home fatalities from the virus is difficult, if not impossible. According to NBC News, there have been at least 2,200 coronavirus deaths in nursing homes, but experts suspect this number is grossly underestimated. As of April 10, 36 states reported at least once an outbreak at a long-term care facility, which is an increase of 522 percent from April 1.
Contact Wormington & Bollinger Today
The long-term impact of the coronavirus is unknown currently. However, what we do know is that life as we knew it has been completely altered. As many states begin to reopen, like in Texas, we will continue to keep a watchful eye on the impact of the virus. In Texas, Harris County has reported the most cases with 5,827 confirmed and 98 deaths. Dallas County is second, followed by Tarrant County with 2,019 cases and 53 deaths. The United States as a whole reached an unfortunate milestone earlier this week, reporting more than one million confirmed cases. No one knows what the legal ramifications of this virus will be.
The healthcare system has been overloaded, yet there have been numerous stories of misconduct, particularly in nursing homes. To learn more about your rights or if you have any questions about how Wormington & Bollinger may be of service, please give us a call today and schedule a free consultation with one of our McKinney personal injury attorneys.