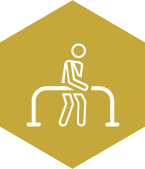 Patient Falls

Studies have shown a statistically significant link between the immobility caused by pain following a broken hip – even if the hip can be surgically repaired – and death. These studies have found that the mortality rate for elderly individuals who experience a hip fracture is 2 – 3x that of individuals who do not as a result of the increased debility forced upon the patient by bed rest and pain, which interferes with all aspects of the body's function.
Patient falls are often preventable with proper nursing care. In fact, a patient death or serious injury associated with a fall while being cared for in a health care setting is on the list of "Never" events compiled by the Center for Medicare Services ("CMS"). This list identifies common complications that CMS believes are always preventable and should never occur. If a condition is on the list of CMS "Never" events, it has the right to withhold payment to a provider for that treatment.
The Texas Nurse Practice Act requires all nursing staff to conduct an individualized nursing assessment and develop a corresponding individualized nursing care plan. The purpose of the assessment is to identify areas in which the patient is at risk for injury. Through a nursing care plan, nursing interventions can be implemented so they are geared towards preventing complications identified during the nursing assessment.
Standardized fall risk assessment tools should be used in the nursing assessment (such as the Morse fall risk scale). The Morse fall risk scale, and all other standardized risk assessment tools like it, provide a numerical scale that triggers implementation of standard prevention measures identified as high risk, moderate risk, and standard risk. It is the duty of the nursing staff to identify the risk category into which the patient falls and to implement fall risk prevention interventions that correlate with the patient's particular risk category. If a fall should occur, the nursing staff should revise the care plan and implement additional interventions to prevent future falls.
All facilities have policies that address the assessment of a patient's fall risk and the interventions that should be implemented, depending upon the level of risk identified.
It is our experience that most falls occur because the nursing staff does not follow the facility policies for the assessment of fall risk and/or do not implement the interventions that were placed in the nursing care plan to address that risk. They do not follow these policies either because they have not been trained on the policies, or there is insufficient staff to allow them to do so.
If you or a loved one has required medical treatment as a result of a fall in a healthcare facility, contact Wormington & Bollinger today. We serve those who have suffered preventable medical complications throughout the State of Texas especially in the DFW region as well as in cities like Plano and Arlington. We are committed to helping you investigate the cause of this injury, to determine who is responsible, and to lessen the financial burden it has imposed on you and your family.