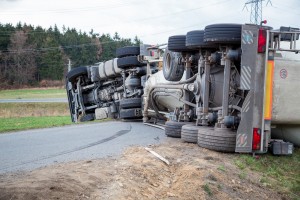 Large trucks have become an increasingly common sight on highways across America, especially here in Texas. These vehicles are essential to our economy and transport goods all over the nation. However, they can also pose a risk to other drivers because of their sheer size and weight. Unfortunately, big rigs are often the cause of serious, fatal accidents in McKinney. When a vehicle that is so large – like an 18-wheeler – collides with a smaller vehicle, the results are often catastrophic. Because of this, it is very important that all motorists learn how to drive safely around big rigs. In doing so, you may be able to prevent a devastating accident from taking place.
When truck accidents occur because of negligence or distraction on the part of the truck driver, you may be able to sue for damages. However, these are some of the most challenging cases to pursue. Not only do you have to take on the driver, but the trucking company and insurance company, too. This is why you need an experienced McKinney truck accident attorney from Wormington & Bollinger. To learn more about your rights following a truck accident in North Texas, please contact us today.
As a motorist, there are certain steps you can take to reduce your risk of being involved in an accident with an 18-wheeler:
Avoid blind spots - One of the main ways you can avoid being involved in an accident with a large truck is to stay out of their blind spot. Big rigs have many more blind spots than passenger vehicles, so it is important to make sure you are always seen by the truck driver.
Be extra cautious when passing – Whenever you decide to pass a commercial truck, it is important that you use extra caution. Big trucks cannot stop as quickly as other vehicles, so it is important you don't make any sudden movements they won't be able to react to.
Give trucks space - As a general rule of thumb, you should allow trucks at least four to six seconds of space in wet conditions when on the highway.
Look at their signals - Pay attention to a truck's turn signal before passing or when driving in the lane beside them.
Merge with caution - Merging can be extremely dangerous when on the highway, especially in wet conditions or when there is poor visibility. If traffic is coming to a stop, never merge in front of the truck, as they do not have the ability to slow down quickly.
Stay alert - One of the biggest mistakes you can make is driving distracted, especially when sharing the road with an 18-wheeler. Do not use your cell phone, keep your hands on the wheel, and stay focused on the road and what other drivers are doing.
If you have been involved in a truck accident in McKinney, please contact Wormington & Bollinger today. Our experienced truck accident attorneys will discuss your case with you and advise you on how to proceed from here.