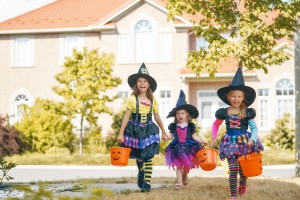 Halloween is just around the corner, which means it's time to start getting those costumes ready. This fun holiday is a favorite for many, young and old alike. There is something about getting dressed up and either taking your kids trick-or-treating or going to a costume party with your friends. While many people opt to stay home and curl up with a scary movie, if you do plan to head out on Halloween night, it's important to stay safe. If you have little ones that are old enough to go trick-or-treating, there are a few things you should keep in mind before the big night comes.
According to Safe Kids Worldwide, twice as many child pedestrians are killed on Halloween night compared to any other day of the year, and an estimated 70 percent of all accidents take place away from an intersection or designated crosswalk. This is just one of the reasons why safety should always be a top priority, especially when trick-or-treating with your kids. Before we go over some of the top safety tips for Halloween night, let's look at a few additional statistics that show just how dangerous this holiday can be:
Just one-third of parents talk to their kids about safety on Halloween
Only 18% of parents put reflective tape on their children's costumes
12% of children under the age of 5 are sent out to trick-or-treat on their own
63% of children do not carry a flashlight while trick-or-treating
41 million children trick-or-treat on Halloween every year
70% of parents do not go with their children when trick-or-treating
There are nearly 4,000 Halloween-related injuries every year
These statistics provide a little insight as to how dangerous Halloween can be, especially for young trick-or-treaters. Unfortunately, many of the accidents and injuries that take place on Halloween involve motor vehicles. According to the National Highway Traffic Safety Administration (NHTSA), accidents involving drunk drivers and pedestrians increase in a major way on Halloween.
With all of this in mind, let's take a look at a few tips to help you and your kids stay safe while trick-or-treating this Halloween:
Stay visible by putting reflective clothing on your children
Always carry a flashlight
Check their costume to make sure they won't trip
Chaperone your child
Talk to your child about safety

Make sure they know to stay off the street
Look both ways and never dart into the street

Remind your kids to stay vigilant and aware of their surroundings
Watch out for cyclists and other pedestrians
Plan out your trick-or-treating route
Stay on sidewalks and paths
Check your child's candy
Teach your children to make eye contact with drivers before crossing the street
Watch out for cars turning or backing up
If you or your child is injured on Halloween, please contact a McKinney personal injury lawyer from Wormington & Bollinger. Your safety is our top priority and we are here to help you in any way we can. Please give us a call today to schedule a free consultation.