When your kids strategize the best trick-or-treating route, they often look for ways to get from one place to the next as quickly as possible. So, bike riding can be a fun way to race to the next neighborhood. But it's important to use caution because bicycle accidents can be a risk that puts a damper on holiday activities.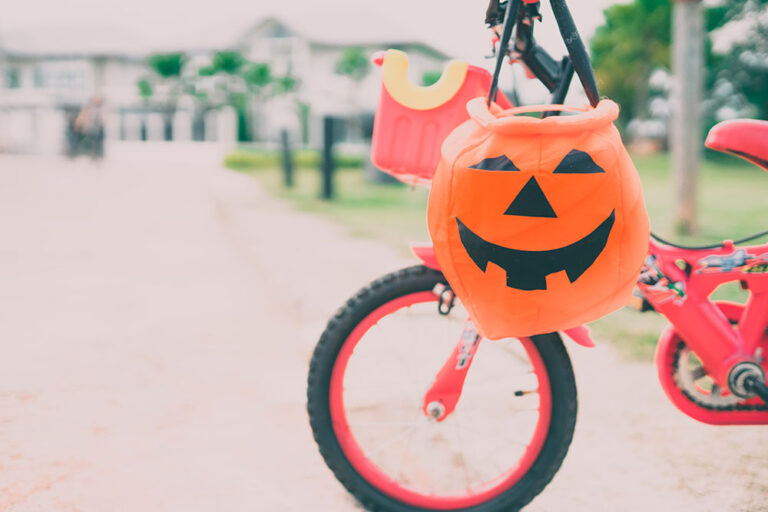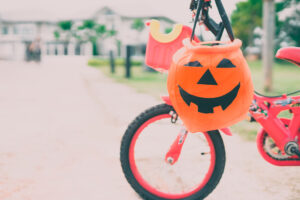 Not only are bicycle accidents on the rise in general, but the risk of an accident increases when people are in the streets on Halloween night. Here are a few things you need to know about preventing bicycle accidents and what to do if an accident happens.
Why Are Bicycle Accidents on the Rise?
There are various reasons why bicycle accidents can happen, and these are some of the most common reasons why people are getting hurt:
Obstruction of view
Distracted driving (such as texting while driving)
Alcohol-related accidents
Speed-related accidents
Bicycle fatalities are the highest during rush-hour traffic and as darkness starts to set in, typically between 4 – 8 pm. These are also the peak hours for trick-or-treating, which is why parents and kids need to be extra careful when heading out on Halloween night.
Many times, the car driver is the person at fault. But there are times when the person on the bicycle can also be at fault. Also, consider that bicycle accidents can happen without a car involved. For example, a bike rider could accidentally hit an obstacle that throws them off the bike, such as an unmarked object on the sidewalk or in a parking lot.
Preventing Bicycle Accidents on Halloween
Consider these strategies to prevent serious injuries from bicycle accidents:
Bright Colors: Make sure you are as visible as possible by wearing bright colors. Even if your child is wearing their Halloween costume, consider having them wear an orange safety vest or a brightly colored jacket to make them more visible in the darkness of Halloween night.
Helmet: Teach your family to never ride a bicycle without wearing a helmet. Also, make sure the helmet is properly fitted and strapped on correctly.
Bike Size: Having the right size bike for your stature and height helps to increase safety while riding the bike.
Reflective Clothing: Invest in reflective clothing and make sure to have good reflectors on the bike. These details will catch the car's headlights to make you and the bike more visible when a car is nearby.
Blinking Lights: Purchasing blinking LED lights to add to the front and back of the bicycle.
Glow Sticks: Make Halloween more fun and festive by giving the kids glow sticks to wear while they are riding their bikes and trick-or-treating. Not only will the kids love the glow sticks, but the glowing accessories make the children more visible to drivers in the area.
Will You Be Compensated for Your Injuries?
The most important thing you can do is hire an experienced personal injury attorney to help you build a case and establish liability.
Often, insurance payouts are available. But it can be challenging to access the full compensation you deserve unless you have solid evidence proving how the accident happened and how the injuries have affected your life.
For example, injuries from a bicycle accident can fall into the category of a personal injury claim. As a result, you can seek compensation from the driver or person responsible for the accident.
Your Legal Rights When Bicycle Accidents Occur
What are your legal rights if a bicycle accident happens? Your personal injury attorney can advise you on the best way to move forward so you can protect your rights and access the available compensation.
Never settle for an insurance claim without consulting with your attorney. There are many benefits provided by the insurance company that you might be entitled to. Compensation might include:
Medical Bills: Emergency services, ongoing therapy, doctor's checkups, treatments, and more. Not only should you calculate the bills that have already accrued, but you should also think about the other medical bills that might be coming.
Lost Wages: When a person is injured and unable to work, insurance might be able to cover lost wages during their recovery. Also, lost wages can be paid to parents who are missing work to care for their injured child.
Other Costs: What other costs were incurred because of the accident? For example, if the bike was damaged, you might be able to ask for reimbursement based on the bike's value.
Pain and Suffering: When the injuries are severe, consider your options for pain and suffering compensation. It's important to prove how the accident is taking a toll on your lifestyle quality, emotional and mental health, and more.
It's advisable that you contact a personal injury attorney as soon as possible after an accident occurs. You have a short window to file your claim, and your attorney can offer guidance and advice about the best ways to move forward.
How a Lawyer Can Assist
Seeking legal assistance is one of the most important things you can do after an accident occurs. Your attorney will help you navigate the complicated process of working with the insurance company. Additionally, it's essential that you have the peace of mind in knowing that you have someone who will advocate for your needs.
Hiring a lawyer is the most effective solution to ensure you or your loved one receives fair compensation for the injuries. Remember that insurance companies are trying to save money whenever possible. So, they will attempt to undercut the insurance offering. An experienced attorney will know the best approach to negotiate the terms to increase the amount of money you can receive.
For more information about bicycle accidents and other personal injury claims, contact us at Wormington & Bollinger. You are invited to contact us at your convenience when you are ready to schedule a complimentary consultation with a knowledgeable personal injury attorney.