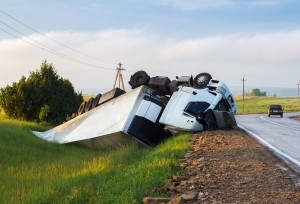 Eighteen-wheelers, occasionally referred to as "big rigs," are commonly seen on the roads in Texas. Large trucks are a necessary function in our economy for transport, however, they do pose a risk on the road. Almost all large truck accidents have devastating results, severe injuries, expensive damage, and in the worst cases, fatalities.
While Texas is such a large state, with so many people and therefore drivers, our car accidents are in large numbers and only growing everyday as the number of people moving to our state increases. In addition to our large population, due to an increase in the amount of freight tonnage, it looks like we may only be seeing more and more of these large trucks on the road. In the next 5 years, it is expected that the freight tonnage will increase by almost 23%. Currently, according to the U.S Centers for Disease Control and Prevention, over 300,000 vehicle accidents occur that involve commercial trucks.
 What is the cause of big rig accidents?
In the United States, Texas is the number one state for fatalities due to truck accidents. This is likely due to our size, as well as our state's economy, manufacturing, and general resources. Truck drivers by law are required to rest and drive in increments, but this doesn't always deter drowsiness from occurring. The Department of Transportation enforces the law that truck drivers cannot drive in shifts longer than 14 hours and may not drive for more than 11 hours consecutively. It is in question by some whether or not this is still too long of a driving period without rest.  A drowsy truck driver leaves everyone on the road at risk and poses a large threat for a fatal accident to occur. The most common reasons leading to truck accidents include drowsiness, speeding, distractions, intoxicated driving, brake malfunctions, or carelessness.
What can you do if you were involved in a truck-driving accident?
If you were involved in a truck driving incident that was not your fault, you should contact a trusted car accident lawyer in McKinney. Truck-driving cases can be difficult, and it is important to have someone on your side to help defend your innocence and the fault of the truck driver. Proving that the truck driver was negligent in the operation of his vehicle is vital in order to ensure you receive just compensation. If the truck driver is, in fact, guilty, you may have a right to financial compensation for aspects such as medical expenses, lost wages, rehabilitation costs, pain and suffering, and vehicle damages and costs.
At Wormington and Bollinger, our highly recommended legal team can help. We will assign you an experienced personal injury attorney in McKinney to ensure you have the best legal partner by your side and receive the monetary compensation that you deserve for your financial losses. If you have any questions or would like to schedule a consultation, contact us today.