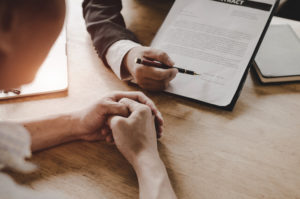 Regardless of how careful you are, you cannot control the actions of others. Even if you follow all the rules and take all the safety precautions, you cannot prevent all accidents. While not every accident leads to severe outcomes, you should always treat them seriously. Even if you didn't suffer injuries, you might have suffered property damage. Regardless of the damages experienced, they can add up to thousands of dollars' worth of repairs.
Fortunately, most people have insurance they can rely on to cover them. In Texas, all drivers must have car insurance. However, there are plenty of other insurances available to you, from health and life insurance to homeowner's insurance. You expect this insurance to cover you after an accident. However, in some instances, your insurance company doesn't live up to this expectation.
These insurance disputes can add to the stress you are already experiencing. In many cases, insurance companies do not act fairly. Instead of living up to their obligations and helping you in a time of crisis, they deny your claim and turn you away, leaving you to handle everything by yourself.
At Wormington & Bollinger, we understand how important insurance coverage is in helping you recover after an accident. When an insurance company does not live up to their obligations and denies your claim, we are here to handle any insurance disputes you might have. If you've suffered a personal injury, and your insurance company denies your claim, delays payment, or offers you an inadequate payment, contact Wormington & Bollinger and let us help.
What is an Insurance Dispute? 
When you purchase any insurance, you and that insurance company enter a legal contract. That means the insurance company has a legal obligation to you if you get sick or suffer an injury, get involved in a car accident, or suffer damage to your home.
Due to this legal agreement, you expect the insurance company to follow through with their obligation and assist you during this time. In most cases, it's reasonable to expect full compensation from an insurance company without any delays. However, that does not always happen.
Insurance disputes occur when an insurance company does not live up to the terms of your agreement. As we stated before, when you purchase insurance, you enter a legal contract with that company. If you make your payments on time, they have a legal obligation to uphold their end of the agreement. When they don't, you have an insurance dispute on your hands.
At Wormington & Bollinger, our personal injury attorneys have handled a wide array of insurance disputes, including:
Uninsured Motorcycle Claims
Uninsured Motorist Claims
Life Insurance Claims
Disability Insurance Claims
Homeowners Insurance Claims
Health Insurance Coverage Disputes
Canceled Insurance Policy Disputes
Collision Property Damage Claims
Medical Payments Claims
Types of Insurance Disputes 
Whether you find yourself in a car accident, fall ill or suffer an injury, or a tree falls and damages your home, it's reasonable to expect full compensation from your insurance company to assist you through this time. However, for one reason or another, an insurance company fails to uphold its obligation.
Insurance disputes can arise for many reasons, including:
Claim denial
Refusal to pay your claim
Inadequate settlement offer
Delaying payment
Requesting excessive documentation (which delays payment)
Disagreements over increasing premiums or changes in policy coverage
Failure to alert you of your coverage lapsing
Canceling your coverage without notification
These are just a handful of insurance disputes that we have seen throughout the years. In most insurance disputes, the most common cause is a claim denial or a slow payout, but they can happen for many different reasons.
When any of these happen, an insurance company could be acting in bad faith. Insurance bad faith refers to when an insurer attempts to go back on their initially agreed-upon obligations to their clients. Bad faith often includes deceptive practices, such as misinterpreting their policies or refusing to pay your claim.
Remember, insurance companies are large organizations looking to make a profit. In many insurance disputes, they act in bad faith to avoid paying large settlements. Because these companies are so big, they don't expect clients to fight back. However, you deserve the compensation they owe you, and Wormington & Bollinger is here to help you secure it.
Steps You Should Take 
When an insurance company acts in bad faith, it puts you in an even more difficult position. You have to manage your injuries, medical bills, and so much more on your own without the help of compensation. However, just because they are big companies does not mean you can't fight back.
To start the dispute process, reach out to your insurance company first. Demand an explanation and discuss the source of your disagreement. Why did they deny your claim? Why is your settlement offer so low? What is causing your payout to take so long? Provide as much evidence as possible to defend your case, including photos, police reports, eyewitness accounts, and medical records.
If the insurance company does not resolve the dispute, contact an insurance dispute attorney before moving forward. Your attorney will help you file an official complaint or an appeal. They possess an understanding of the laws regarding insurance and will use them to secure your compensation.
However, if your dispute is still not settled even after your attorney's claim, filing a lawsuit might be your best chance at recovering compensation. Insurance companies will often stand firm and fight to avoid giving out the payments their clients deserve.
Through a successful lawsuit, your attorney can secure the payment of your initial claim, as well as additional compensation. As long as you are upfront with your attorney and provide them with all the necessary information, they can settle your insurance dispute.
Contact Wormington & Bollinger 
When you purchase insurance, you and that insurance company enter a legal contract. If you make the necessary payments, they have a legal obligation to uphold. Unfortunately, many insurance companies act in bad faith, leaving you to deal with all the stress of an accident.
If an insurance company has refused to pay your claim, denied payment, offered you an inadequate settlement, or is delaying payment, contact the personal injury attorneys at Wormington & Bollinger. We have years of experience handling a host of insurance disputes, helping our clients secure the compensation they deserve. Give us a call today and let us help.