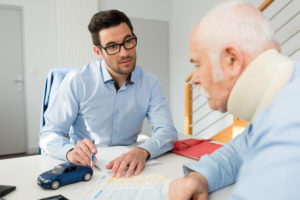 Every single year, thousands of people are injured in accidents in Texas and throughout the United States. Accidents can happen anywhere, any time of day, whether you are driving to work, running errands, or out for an afternoon bike ride with your family. The one thing all these incidents have in common is they may lead to a personal injury lawsuit. Personal injury is one of the largest categories of law, and there are a variety of regulations in place governing how these lawsuits proceed. It is essential to understand the specific timelines in place for filing a personal injury lawsuit, as they vary from state to state.
The purpose of today's article is to take an in-depth look at filing a personal injury lawsuit in Texas, including the Lone Star State's deadlines and what you should expect during the litigation process. If you have any questions or if you suffered an injury following an accident on one of  Dallas' dangerous highways, for example, give Wormington & Bollinger a call. Often, serious accidents result in mounting hospital and doctor bills, the cost of medications, and long-term rehabilitation. Paying for these services out of pocket is daunting, if not impossible. There is also a good chance you won't be able to work following an accident. This is where filing a personal injury claim may come into play.
We understand that the very term 'lawsuit' can be intimidating to many and for a good reason. The legal system is complex and often unforgiving. To learn more about your rights and what to expect when filing a personal injury claim in Texas, please contact Wormington & Bollinger and schedule a free consultation.
What is Personal Injury Law?
Before we can look at the process for filing a claim in Texas, it is helpful to understand what, exactly, personal injury law is. Broadly speaking, personal injury law deals with all legal disputes that arise when someone suffers an injury because of another person's negligence, ill will, or misguided conduct. Personal injury cases typically involve an individual (plaintiff) who is seeking compensation from another person or business (the defendant) after they caused the accident and injury.
Some common examples of personal injury claims include:
Car accidents
Workplace accidents
Slip and fall and other premises liability cases
Dog bite cases
Assault
Child abuse or child injury
Wrongful death
The above are top examples of personal injury lawsuits in Texas. Our McKinney lawyers are here to help you understand your rights and how to take action. The legal system is complex and can be extremely overwhelming, which is why you need an experienced lawyer on your side. We are here to offer our expertise, help you understand your rights, and ensure all documents are filed on time.
Should I File a Lawsuit?
Before you do anything, it helps to sit down with a lawyer and discuss if pursuing a personal injury claim is the right thing to do. All states in the nation have statutory limits on the amount of time you have to file a lawsuit if you have suffered an injury following an accident. These deadlines vary depending on the state, the type of case you want to file, and numerous other factors surrounding your case.
In Texas, the statute of limitations for personal injury cases is two years from the date of injury. It is of the utmost importance you understand and comply with this rule, as there is no leniency for delinquencies. Cases that are not filed on time are typically refused by the Texas civil court system, which means you will no longer have the right to compensation. To learn more, please schedule an appointment with a knowledgeable personal injury lawyer to discuss your options.
Beyond understanding the statute of limitations, one of the most frequently asked questions we get is, "when should I file a claim?" Unfortunately, there isn't a straightforward answer to this. Many factors will affect whether or not it's appropriate to file a claim: the type of accident, the severity of your injuries, and how the insurance adjuster is responding. If the at-fault party does not agree with the amount of compensation you are seeking or your injuries, you may want to consider filing a lawsuit rather than settling.
What Damages Am I Entitled To?
According to Texas law, you may be entitled to the following damages:
Economic damages – The financial losses you suffered because of the accident and your injuries.
Non-economic damages – These damages include pain and suffering, disfigurement, mental anguish, and other intangible consequences of the accident.
Exemplary damages – These damages aim to punish the person or persons responsible for your injuries, in the event they acted particularly negligent.
Steps of the Litigation Process
If you do decide to pursue a lawsuit, you must understand that the process can be complicated and often takes longer than anticipated. Here is a look at the necessary steps of the litigation process to help you know what to expect:
Discussion with a lawyer – The first thing that will happen when considering filing a lawsuit is an initial meeting with a lawyer. We may ask you the following questions during this complimentary meeting:

The specifics of the accident, including any injuries you sustained
How the accident and injuries have impacted your family (financially, physically, and emotionally)

Where to file? After the initial and any follow-up interviews have been conducted, we will make a decision on where to present your case.
Discovery phases – Once we file the case, we will begin the discovery stage. This is the point at which we start to collect evidence about your case, including talking to any witnesses and looking into a possible settlement.
To settle or not – Do you settle or go to trial? The majority of cases are settled before going to trial because there is a higher chance of both sides agreeing on the outcome. However, if you decide not to accept any settlement offers, your case will go to trial. When this happens, it can take a minimum of several weeks for anything to happen.
To learn more about filing a personal injury claim in lawsuit, please contact Wormington & Bollinger today and ask to schedule an appointment with one of our experienced lawyers.