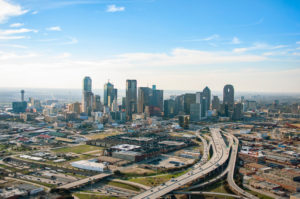 To say the Dallas-Fort Worth area is bustling would be an understatement. As of last year, the region's population surpassed 7.5 million, making it the fourth-largest metro area in the United States. Today, DFW trails only New York City, Los Angeles, and Chicago with the most residents in the nation. But unlike those three metropolises, more people are still coming to Dallas-Fort Worth, not leaving.
Over the last eight years, over 1 million people have moved to Dallas-Fort Worth, and 3.5 million new residents moved to the Lone Star State from April 2010 to July 2018. If you break down the numbers, that's 1,000 new residents each day — a third of whom call DFW home.
With this many people moving to North Texas, it is no wonder the highways in DFW have become increasingly congested. Many people commute into the heart of Dallas from the outlying suburbs, and others have their vehicle to navigate the growing city. According to the Texas Department of Transportation (TxDOT), more than 160,000 cars travel through downtown Dallas every single day. And perhaps most shockingly, a 2019 study found that drivers were 46 percent more likely to get in an accident in Dallas than anywhere else in the U.S.
Not only is there a higher chance of an accident in DFW because of the number of people, but the state's highways are inherently dangerous. In fact, 11 of the 50 highways in the U.S. are located in Texas, three of which travel through North Texas: I-20, I-35, and U.S. 175. Given the Lone Star State's high accident rate, it is crucial travelers understand what to watch for and how to stay safe. While we cannot prevent every accident from occurring, there are certain things you can do to protect yourself and your loved ones. Today we are going to take a closer look at the highways in DFW and why they are so dangerous. If you are involved in an accident that was caused by another driver's negligence or distraction, contact Wormington & Bollinger to schedule a free consultation to discuss your case.
DFW Highways by the Numbers
The few statistics mentioned above start to paint a picture of how much Dallas-Fort Worth has changed over the last decade. With so many more people choosing to call the region home, it should come as no surprise that the city's highways are amongst the most dangerous in the nation. TxDOT points to problems with infrastructure, namely in the DFW downtown corridor, as one of the biggest challenges. Unfortunately, Dallas now tops the list of the most dangerous city for drivers in Texas.
Let's look at a few additional statistics about DFW area highways and accidents to gain a clearer understanding of why so many accidents take place:
I-20 in Dallas is ranked the 6th most dangerous highway in the U.S.
I-35 came in at 20th, and U.S. 75 sat at 42nd
Dallas has the fifth-highest rate of fatal traffic accidents in the U.S.
Dallas sees 14.42 fatal car accidents per 100,000 residents (putting it in the number one slot)
There are 10.61 fatal accidents per 100,000 residents in Fort Worth
From 2010 to 2016, there were 490 fatal crashes on I-20 that lead to 594 deaths
North Hampton Rd. is the most dangerous road in Dallas (followed closely by I-20)
Each year, there are more than 80,000 accidents in Dallas and Tarrant counties
Why are Dallas roads so dangerous? 
Many factors contribute to how dangerous the roads are in Dallas (other than the growing number of residents):
Poor road conditions
Improper road residents
Inadequate corridors
Lack of proper signage and markings
Inadequate guardrails
Vegetation that covers up signage and sightlines
Poor traffic control, specifically in work zones
Due to the high number of large trucks that travel on Texas highways, many of the roadways and bridges are starting to deteriorate. As more big corporations move into the DFW area, it is going to be difficult for the roads to withstand the high volumes of heavily loaded trucks and vehicles. Dallas transportation officials expect the repair costs of these roadways to surpass $2 billion each year. As the roads continue to deteriorate, they will become increasingly difficult to travel on and will likely contribute to the number of accidents.
Most Common Causes of Dallas Area Car Accidents
Dallas-Fort Worth is no stranger to fatal car accidents. Often, these accidents are the result of poor road conditions and congestion, but most of the time, human error is to blame. Some of the most common causes of Dallas area car accidents include:
Distracted driving (texting, talking on the phone, looking at GPS, etc.)
Driving under the influence of drugs
Driver fatigue
Aggressive driving and road rage
Reckless driving
Speeding
Teen drivers
Tailgating
Car defects
Dangerous roadways
Accidents are unpredictable and can happen at any time, to anyone. If you were involved in a collision in the Dallas-Fort Worth area that wasn't your fault, contact Wormington & Bollinger today. We offer free consultations and are prepared to sit down and discuss your case with you today.
Injured in a DFW Highway Accident? We Can Help 
Injuries from DFW highway accidents can vary from minor to severe and even fatal, depending on the factors surrounding the accident. Common injuries include:
Spinal cord injuries
Traumatic brain injuries
Loss of limb
Damage to internal organs
Broken bones
Cuts, scrapes, lacerations, or bruises
Whiplash
Back or neck injuries
Concussion
Chest injuries
Dallas-Fort Worth experienced a 29.7 percent increase in residents from 2010 to 2018, making it one of the fastest-growing regions in the country. As the urban corridor continues to grow and expand, it is more important than ever for drivers to be aware and vigilant. If you were injured in a Dallas car accident, or if you lost a loved one because of another driver's negligence, contact Wormington & Bollinger today.