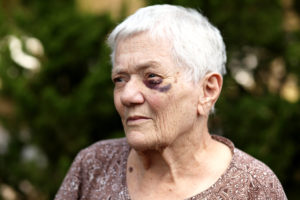 Elder abuse is rampant in the United States, as is evident in the latest trend in Medicare fraud. Federal officials believe Medicare players committed $2.1 billion in fraud in a scheme surrounding "free" genetic testing for cancer. Both independent seniors and those living in nursing homes have been targeted in this DNA testing scam, the "fastest-growing area of Medicare fraud." Unfortunately, this has cost the government billions of dollars in taxpayer money.
If you've been keeping up, you've likely noticed a trend in the topics we've been covering: elder abuse. Today we are going to take a closer look at this genetic testing mess, the latest scam targeting the elderly. But first, we must remember this is nothing new.  In the U.S., elder abuse is a growing problem that many people knew little about – until recently, that is. Elder abuse can happen to anyone and anywhere. Sadly, the majority of abusers are someone close to the senior citizen, whether a caretaker, nursing home staff member, family member, or friend.
Elder abuse also takes many different forms, including:
Physical Abuse
Sexual Abuse
Mental or Psychological Abuse
Financial Abuse
Neglect of the Elderly
Abandonment of the Elderly
Self-neglect
However, there are numerous signs and risk factors of elder abuse that we must be aware of to protect our loved ones. Given the fact that nursing home abuse is more common than previously thought, taking the time to educate yourself about the most common signs of elder abuse is imperative. At Wormington & Bollinger, we understand this all too well. We have represented countless victims of elder abuse throughout Texas and are here to help you, too. If you suspect elder abuse in any form, please give Wormington & Bollinger a call today and schedule a free consultation.
Elder Abuse Statistics 
Studies estimate that anywhere from 2 to 10 percent of the elderly population have experienced some type of abuse or neglect. Other noteworthy elder abuse statistics include:
Estimates range, but it is believed that anywhere from 2 to 5 million elders are abused every year (the range is so large because the majority of elder abuse cases go unreported)
Only 1 in 14 incidents of elder abuse are reported to authorities
Rates of nursing home abuse are higher in long-term care facilities, such as nursing homes
As the number of older Americans increases, elder abuse is predicted to become even more common
1 in 10 elders over the age of 60 are believed to have been abused
24% of nursing home residents experience some form of physical abuse
The Dirty Details
We hope the above statistics shed light on the growing dangers of elder abuse in Texas and the rest of the country. It seems there is a new case of shocking elder abuse – and a new lawsuit filed against those responsible – in the news daily. Unfortunately, the latest scam in telemedicine once again targets seniors and is costing taxpayers billions.
According to the report mentioned earlier, countless scams are preying on seniors throughout Texas and the rest of the country. Officials say that scammers are targeting seniors over the phone, through social media, and even a Fort Lauderdale arts festival, urging them to get genetic testing for cancer. Those targeted were cancer survivors who were told this DNA testing – completely covered – would tell them if they had a gene that meant cancer could be passed down to their children. However, Medicare was then billed upwards of $10,000 for the "free" tests.
But that's not all. If they agreed, healthcare workers would collect their DNA with a cotton swab, only to turn this information over to another lab for genetic testing.
About the Lawsuits
About five years ago, authorities started noticing an increase in DNA testing claims, and their fraud radar went crazy. Then, in 2018, things erupted.
What happened? The people.
Medicare beneficiaries were filing complaints about the supposed genetic testing fraud that was going on, and officials were listening. Those involved in such healthcare fraud rings as this one are being compensated monetarily for getting people to agree to whatever it is they are selling – whether a DNA test or back brace.
The number of lawsuits filed for false billing because of the cancer genomic tests, called CGx tests, continue to increase. Investigators have also learned that Medicare paid more than $84 million to labs that perform this specific type of DNA testing. In return for this hefty sum, labs in Georgia and Pennsylvania paid kickbacks to those at the top.
Medicare Fraud? Not the First Time 
As upsetting as this latest scam is, it isn't the first time America's Medicare system has fallen victim to fraud. Here is a brief look at some of the other ways Medicare fraud has been committed over the years, including false claims for:
Medical equipment
HIV drugs
Involving home healthcare services
Psychotherapy services
Who Is at Risk of Elder Abuse?
As this most recent Medicare scam has shown, no one is safe, and the future of elder abuse is frightening. This is why it is important that our senior loved ones have an advocate and are properly cared for. It is, of course, important to be aware of the signs of elder abuse, but it also helps to understand who may be at higher risk of abuse than others:
Women are more likely to be abused (2 out of 3 victims of elder abuse are reported to be women)
Individuals with disabilities or mental impairments are more likely to be abused
50% of individuals with Alzheimer's or dementia are either neglected or abused
Individuals in poor health are abused more often than those in good health
Elders who have experienced abuse or trauma in the past are more likely to be abused
Individuals over 65 years are the highest at-risk group
Unfortunately, as modern medicine advances and intersects with technology, healthcare industry experts expect this to happen. This is why telemedicine scams are increasing, targeting innocent elders through online chats and social media. These "doctors" will engage with an online user, asking them real questions such as, "are you in pain?" In many cases, the elder person gets caught in the web, agreeing to whatever prescription, test, or treatment being offered.
If you or a loved one has been the victim of elder abuse in McKinney or elsewhere in Texas, give Wormington & Bollinger a call and schedule an appointment with one of our lawyers.