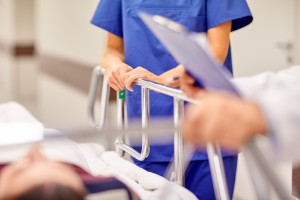 The main goal of a hospital should be to provide health services and care for their patients to have their medical emergencies taken care of effectively. However, there are some hospitals throughout the country that seem fixated on increasing their revenue over providing quality care for their patients.
A hospital in Wheeling, West Virginia, named Wheeling Hospital was once an institution that was struggling to break even. However, in an effort to attract renowned anesthesiologist, Dr. Adam Tune, the Catholic hospital operated as if their expendable income was virtually limitless.
Dr. Tune is a well-known specialist in the field of pain management with a reputation of being a successful and skilled anesthesiologist in the nearby Pittsburgh area. Tune was paid nearly $1.2 million a year for him to join Wheeling Hospital, a salary greater than 90% of pain management physicians in the country. Along with this large salary, they built him a clinic to operate out of in Wheeling.
Along with Tune, Wheeling also paid a hefty salary of $1.3 million to an obstetrician-gynecologist, which according to a related lawsuit by a whistle-blowing executive, cost her department a significant amount of money.
Other Instances 
Wheeling seemed to turn their fortunes around by having these many specialists refer them patients on countless occasions, but they are far from the only location to do so.
Whenever a doctor refers a patient to a procedure or a test to a hospital, that hospital generates increased business and revenue. According to a survey done by Merritt Hawkins, internal medicine doctors generate nearly $2.7 million in average revenue, roughly 10 times their salary, for the hospital they are affiliated with.
A hospital part of Michigan's largest health system, called William Beaumont Hospital, settled with the government by paying $85 million after allegations that they gave physicians free or discounted office space.
Another hospital, Kalispell Regional Healthcare System, in Montana was forced to settle a lawsuit that claimed the hospital overcompensated 63 specialists in exchange for referrals. They paid out $24 million.
In a large turn of events, a shift has been reported in the hospital industry. Hospitals have gone on large buying sprees of physicians and their practices. 44% of physicians and 31% of physician practices were employed and owned by hospitals as of January 2018. A consulting group called Avalere reports that these numbers have increased within this decade as only 26% of doctors and 14% of their practices were owned by hospitals back in 2012.
Legal Issues
Cases like this have come under fire as of late due to institutions like Wheeling designing the way their services work by using financial considerations to persuade and help decide many physicians' clinical decisions. Many of these hospitals are acting against many federal anti-kickback laws and self-referral laws, according to the government.
In many industries, it is acceptable for companies to reward those who refer increased business to them. However, when it comes to health care programs and groups, rewarding those for these referrals is a crime. The government is essentially accusing institutions like Wheeling for rewarding physicians for sending them referred patients.
These physicians are rewarded with office spaces, inflated salaries, discounted support staff, and much more for their services. The Stark Law actually prohibits physicians "from making referrals for certain designated health services (DHS) payable by Medicare to an entity with which he or she (or an immediate family member) has a financial relationship (ownership, investment, or compensation) unless an exception applies."
These federal laws have been put in place to prevent doctors to be persuaded by incentives to order unnecessary tests and treatments for their patients that are expensive and place unnecessary risks on them. The hopes are to put the focus back on patient care.
Results
This approach has been successful in the eyes of many hospitals. For Wheeling, Ronald Violi, a managing director for a private management company took over as chief executive officer for the hospital.
While the hospital remained church owned, Violi ran it with an aggressive "market-oriented approach." Under Violi, Wheeling saw success, at least financially. Wheeling saw a net profit of $90 million in the first five years with Violi while the hospital previously struggled to break even before his appointment.
However, while Wheeling has seen great financial success since adopting these tactics, their quality of care has not fared as well. According to Hospital Compare, Medicare's consumer website, patients who have suffered heart failure or contracted pneumonia are more likely to die while in the care of Wheeling compared to most hospitals. Medicare also rated Wheeling a one-star rating, its worst possible rating, for overall quality.
Seeking Legal Guidance
It is important for many patients to be aware of these tactics that many hospitals have begun to employ to raise their revenue. It can help you stay more vigilant when meeting with these specialists or visiting a hospital. If you have been referred by a physician to visit a hospital for extra testing and treatments, be sure to check where their affiliations lie to ensure that their intentions are altruistic.
If you believe that you have been referred to services that were unnecessary for your overall condition and health, it may be in your best interest to contact medical malpractice attorneys such as Wormington & Bollinger. Our team has extensive experience helping those who have experienced injustice while in the care of medical specialists and physicians, ensuring they receive the justice they rightfully deserve.