Fireworks and the 4th of July just seem to go hand in hand. It's how we've grown up and how many of us still celebrate with our own families. But, if you attend big shows that your city puts on or light off your own, you could be up for more than just a fun firework show. You and your family could be at risk for fireworks injuries that you may have never even considered.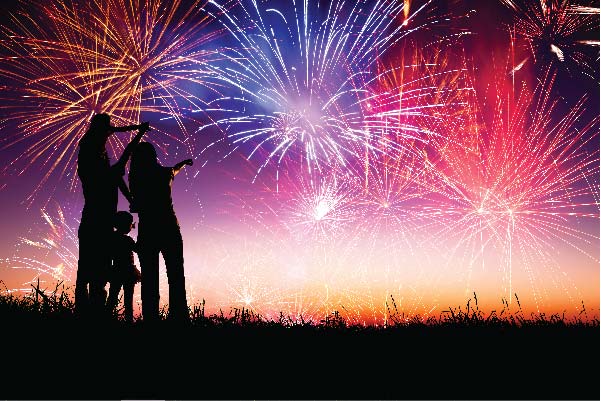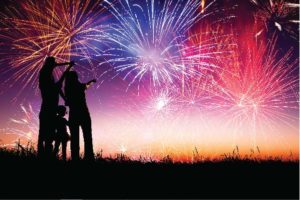 Each year hospitals see fireworks injuries enter through their doors at an alarming rate. While many of us don't spend much time thinking about the risks of fireworks injuries, they do happen, and it's good to know what to do if it does. After all, these types of injuries can affect a person for the rest of their lives!
Safety Tips to Prevent Fireworks Injuries
Applying common sense is the best safety tip when lighting fireworks. Don't mess around if you think something might not be the best idea. Stay safe and keep your family safe by following these prevention tips:
Never let your children play with or light fireworks.
Don't light off illegal fireworks in your area.
Only light one firework at a time to avoid out-of-control fireworks.
Never light fireworks if you are impaired by drugs or alcohol.
Keep a bucket of water handy in case a fire is lit (and for used fireworks and sparklers to go in).
Stay back a reasonable distance to avoid getting burned if a firework tips over.
After your firework show, wet all your fireworks to prevent them from re-lighting and starting a fire.
Safety Tips for Children
A recent national poll showed that 1 in 5 parents allow their kids to light fireworks or sparklers on their own. While most parents say they speak to their kids about how to be safe with fireworks, there's still a lack of safety measures being taken. Some of the best safety tips to keep your kids safe include:
Sitting at least 100 feet from where fireworks are being shot off
Only allowing adults to light fireworks
Keeping a bucket of water nearby to put used sparklers in
Wearing shoes when using sparklers (to protect the tops and bottoms of your feet)
Pointing sparklers away from the face as you hold them
Only lighting one sparkler at a time
Staying at least six feet away from other people
Continuing to educate kids on fireworks safety and the risks involved
Fireworks Injuries Broken Down
Did you know that 74% of fireworks injuries happened in the few weeks before and after the 4th of July? Kind of interesting, right? Most injuries aren't even happening on the 4th of July holiday! This means you need to always stay vigilant, not just on the popular holidays.
Ever wondered what age incurs the most fireworks injuries? Youth ages 20-24 had the highest amount of ER visits from fireworks injuries in 2021. In this same year, an estimated 31% of injuries happened to the hands. Ouch!
Guess which states have the highest amount of firework injuries? The top five spots go to:
South Dakota
Nebraska
Wisconsin
Iowa
Michigan
Hawaii has the smallest number of firework-related injuries, followed closely by Alaska.
Firecrackers, roman candles, and bottle rockets are the largest culprit of fireworks injuries. While these can all be used safely, they are often not, resulting in a variety of injuries, some of which can be deadly. So you must decide, is it worth the risk?
Remember, even though you may take the necessary precautions to keep you and your family safe, not everyone does. Keep this in mind as you gather with friends and other families for firework shows. It's up to you to stay safe. If someone else is not lighting fireworks properly or you see potential dangers, speak up and act. Sometimes people just need to be educated on how to stay safe and that it is important to you to use fireworks properly.
Don't Wait to Seek Treatment!
After a fireworks injury, you may think that you have just a minor burn and can take care of it yourself. However, it will not be better the following day. In fact, without treatment, it could be substantially worse.
Seek medical treatment immediately if you have incurred a burn or other injury from fireworks. Not only is it important to your health and future recovery, but it can also be a big deal if you file a legal claim against those at fault. Now is not the time to "tough it out." Take care of yourself now to avoid more issues down the road.
You Have Been Injured from Fireworks, Now What?
If you have been injured in a fireworks accident that was not your fault, you may be able to file a personal injury claim for the accident. In addition, if you incurred medical expenses, lost time from work, or are still experiencing pain or trouble from your injuries, you may be able to seek compensation for all these things.
Maybe you have a case where you were using fireworks properly during a private firework show with your family, but when you ignited one of your fireworks, it instantly exploded and burned you. This would be considered a product liability claim that would be made against the makers or manufacturers and even the retailer from which you bought it.
Speaking with an experienced attorney team can help you sort out all the details and allow you to explore all your legal options. The attorneys at Wormington & Bollinger have been through cases like yours and can help you navigate through all the necessary steps to get the compensation you deserve. This is definitely not a journey you want to take on your own. Contact us to learn more about how we can help and to schedule a free consultation to get started. You have a right to be safe and deserve compensation if you were injured. Call us today.