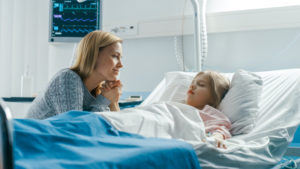 Earlier this week, Seattle Children's Hospital announced they were shutting down their operating rooms and several procedural areas due to mold. Unfortunately, this isn't an isolated case. Back in May of this year, the highly-reputable children's hospital shut down numerous operating rooms following the death of a patient from a mold infection. The investigative team found an air handling unit was to blame. While the northwest is no stranger to humidity and, in turn, mold, these missteps come as a shock to many. After the first incident, Seattle Children's Hospital sent out more than 3,000 letters to patients who had undergone surgery at the facility, warning of air quality problems, and the potential for mold. Five patients got ill in addition to the one who died because of this springtime mold contamination.
Now, it seems the hospital has once again come face-to-face with a mold problem. Officials tested the hospital for mold spores once a week since July. There were no issues until this week.
Hospital's Response
Seattle Children's closed all operating rooms until they find the source of the Aspergillus mold as a precautionary measure. Surgeries have been moved to other area hospitals or postponed until the matter is under control. A spokesperson for the hospital stated: "The closure will allow us to physically access the air handling unit and take corrective actions." These "corrective actions" will include, but are not limited to:
Using a third-party to inspect the air handling unit
Cleaning and sanitizing the air handling unit
Cleaning and sanitizing the operating rooms, procedural areas, and any other part of the hospital that may have been exposed
In addition to cleaning the hospital and investigating why the mold resurfaced, Seattle Children's is also preparing for potential lawsuits. The hospital was sued following the May incident by the parents of a teenage boy who claims the mold led to an infection. The boy is disabled as a result of the infection. Documents surrounding the lawsuit claim the teen developed meningitis from the Aspergillus mold that keeps popping up in the hospital's operating rooms. The lawsuit suggests Seattle Children's Hospital did not take the appropriate measures to prevent the mold and keep it from spreading and infecting young patients.
Since this is the second time the hospital has found mold in its operating rooms, medical negligence may be to blame. There have been numerous shocking medical malpractice stories in the news lately, so this one should come as no surprise. Sadly, medical errors are a significant problem in the United States, leading to an estimated 250,000 to 440,000 deaths every single year. The Washington State Department of Health is currently investigating why the mold has resurfaced at Seattle Children's. Depending on their findings, the hospital may be held liable for negligence.
The Dangers of Aspergillus Mold
Aspergillus mold is a common type of mold that is found both indoors and outdoors. While most of us will breathe in these fungal spores during the day (especially in certain climates), it is usually harmless. However, it can be quite harmful and lead to infection in people with weakened or compromised immune systems. This is why it is causing such problems at Seattle Children's Hospital. According to reports, they found the mold predominantly in the hospital's operating rooms. This is extremely dangerous because surgical patients are often in a vulnerable state, and their immune systems have a more difficult time fighting off infection.
Although there are more than 180 different species of Aspergillus mold, less than 40 cause infections in humans. As of right now, Seattle Children's has not said how many patients were exposed to the mold. Once they determine who is at risk, they will contact them about the most recent problem they are facing.
Common Signs of a Mold Infection 
There are hundreds of different types of mold, not all of which are harmful. As mentioned, Aspergillus mold isn't an issue for most people, except for hospital patients with weakened immune systems. The most common infection caused by Aspergillus mold is aspergillosis. Some of the symptoms of this infection include:
Coughing
Wheezing
Fever
Chest pain
Difficulty breathing
Chills
Shortness of breath
Coughing accompanies by mucus or blood
Asthma brought on by exercise
It is crucial to keep in mind that there are many different types of mold and infections. If you are experiencing any of the above symptoms or believe you've were exposed to harmful mold, contact Wormington & Bollinger today. Depending on the circumstances surrounding your case, you may be able to file a medical malpractice lawsuit. 
Is Malpractice in Play?
Proving medical malpractice or negligence can be very tricky, especially when a hospital is involved. Hospitals are large corporations with deep pockets. In some cases, they are protected against malpractice by sovereign immunity, like in Texas. We say this not to discourage you, but rather to ensure you have all the information necessary. While no lawsuits have been filed against Seattle Children's for this second case of mold, this may change.
If you are wondering if you have a medical malpractice lawsuit on your hand, keep the following in mind:
Did the hospital or medical professionals fail to meet the standard duty of care?
Was there a doctor-patient relationship in place that was compromised?
Was the doctor or hospital negligent with your care or the cleanliness of the facility?
Did this negligence cause an injury or death?
Did the injury lead to specific damages, such as physical pain, lost wages, emotional suffering, or disability?
There are many different types of medical malpractice, including:
Surgical errors
Anesthesia errors
Prescription errors
Lack of training
Infections
Failure to obtain informed consent
If you have questions about a medical malpractice case, contact Wormington & Bollinger today. We offer free consultations and are here to advise you on your rights. We will update you on the Seattle Children's Hospital mold problem as we find out more.