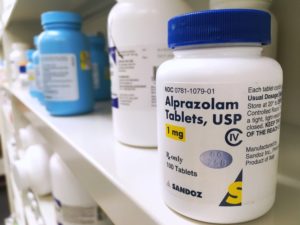 Mylan Pharmaceuticals has issued a voluntary nationwide recall of a batch of Xanax (alprazolam) tablets due to "the potential presence of a foreign substance." The announcement came after the company learned a batch of the popular prescription anti-anxiety medication may include a foreign material, which could cause infection. Although the risk of infection is quite low, the global pharmaceutical company initiated the voluntary recall as a precaution. Sold under the brand name Xanax, alprazolam is often prescribed to treat anxiety and other similar conditions. On October 25, 2019, Mylan learned of the possible presence of a foreign substance that may increase a consumer's risk of infection or other negative side effects. However, there have been no reports of adverse reactions related to the compromised batch of alprazolam.
Subsequently, this is a very new drug recall that the attorneys at Wormington & Bollinger are keeping a watchful eye on. If you or anyone you know has experienced any negative side effects taking Xanax, seek medical attention right away. Depending on the circumstances surrounding your case, you may be able to file a dangerous drug lawsuit. Unfortunately, drugs are often manufactured in facilities that do not meet industry standards. If a specific drug is manufactured or marketed incorrectly, putting consumers at risk, the company may be held liable. Sadly, drugs are recalled every single day in the United States, often without the knowledge of the very people who are taking them.
The dangerous drug attorneys at Wormington & Bollinger have your best interests in mind and know what it takes to fight Big Pharma. We will be keeping a watchful eye on Mylan Pharmaceuticals and will let you know if anyone comes forward with side effects from this recalled batch of Xanax.
Mylan Pharmaceuticals Recall: What You Need to Know 
Mylan Pharmaceuticals is a global pharmaceutical company specializing in the manufacturing and marketing of generic and specialty drugs. Headquartered in Canonsburg, Pennsylvania, Mylan has already notified its distributors and consumers of the recall. While many companies fail to adequately warn physicians and consumers alike of the possible adverse side effects of certain drugs, Mylan has chosen to take a proactive approach to the problem.
Although the chance of infection is remote, the company decided to issue a voluntary recall just to be safe. Often, manufacturers fail to include warnings on their products, putting patients at risk. While the U.S. Food and Drug Administration (FDA) is tasked with monitoring which drugs are on the market and whether they include the appropriate warnings, they cannot catch everything.
Important Recall Information
The recall pertains to the following:
Alprazolam tablets, USP C-IV, 0.5 mg in 500-count bottles (lot No. 8082708 with a September 2020 expiration date)
The batch of potentially compromised tablets was distributed in July and August 2019
If you are a wholesaler, retailer, or consumer, please keep the following in mind regarding the Mylan Pharmaceuticals alprazolam recall:
Wholesalers – Go over your inventory and check to ensure you are not holding any alprazolam lots of the numbers mentioned. If you do have the infected product, make note of any customers who have been given the drug.
Retailers – All retailers of Xanax should also check their inventory. Be sure to quarantine and immediately stop the distribution of these batches.
Consumers – If you were given a Xanax prescription in July or August of this year, check your prescription and make sure you do not have the lot numbers mentioned. Furthermore, contact your provider immediately and stop taking the drug if you do have an infected batch.
While there have been no reports of adverse side effects of this specific lot, it is important you understand the seriousness of this recall. Yes, the risk of infection is low, but it remains a possibility. To learn more about what you can do following a dangerous drug recall like this one, please contact Wormington & Bollinger today. If you have specific questions about the recall, contact Mylan Pharmaceuticals at 800-796-9526 or customer.service@mylan.com.
Mylan's full announcement regarding the nationwide recall of the batch of alprazolam tablets can be found here.
What is Alprazolam? 
Sold under the brand name Xanax, alprazolam is a benzodiazepine drug that works to change the chemistry of the brain. Used to treat symptoms of anxiety and depression, alprazolam should only be taken following careful instructions by a physician. However, this medication can be habit-forming and shouldn't be taken by anyone with a history of drug abuse or addiction. Anti-anxiety medications such as alprazolam are often referred to as tranquilizers because of their sedative and calming properties. Other commonly prescribed examples of these types of drugs include:
How does alprazolam treat anxiety disorders?
Alprazolam can help manage or treat anxiety by impacting receptors for gamma-aminobutyric acid (GABA), which helps the brain control sleep, relaxation, and anxiety. The medication may help balance and slow down the central nervous system by providing a relaxing effect. This particular drug is well-known for its fast-acting results, helping people who are in a state of panic. Furthermore, Xanax has a "short half-life," which means it gets the job done quickly and then leaves your system.
Do I Have a Dangerous Drug Case? 
As we've discussed in the past, many factors contribute to a dangerous drug case. If it was found that the drug's manufacturer acted carelessly or failed to warn physicians and consumers about any potentially harmful side effects, they may be held accountable. Above all, if you have been harmed by a medication, or if you the product failed to include adequate warnings about the potential side effects, please contact the dangerous drug attorneys at Wormington & Bollinger today. Our lawyers are keeping a close eye on Mylan Pharmaceuticals and will notify you of any reports of adverse reactions involving the recalled alprazolam batch. To learn more about dangerous drug recalls and lawsuits, please contact Wormington & Bollinger and schedule a free consultation today.