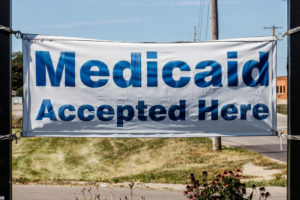 For years, families have relied on the government program Medicaid to help them through times of medical hardship. They provide assistance to more than 75 million low-income and disabled Americans. However, while they do take care of those in need, it comes at a relatively unknown cost.
Medicaid is the only major welfare program that operates like a loan. Medicaid expects recipients over the age of 55 to repay the government for medical expenses. Oftentimes, if the debt cannot be repaid, states will seize houses and other assets from recipients who have died to repay these debts. Many were unsure if these tales of Medicaid taking people's home were founded in truth, but these rumors were very much confirmed.
These reports were highlighted in a piece written for The Atlantic, focusing on a specific case in Massachusetts.
Tawanda's Story
Tawanda Rhodes resides in Dorchester, Massachusetts, where she lives in a three-story home she received after both parents passed away. Her father, Joseph Victorian, was a descendant of Creole slaves who eventually joined the Army during the Korean War. After being wounded in action, he was stationed in Massachusetts where he met his wife and Tawanda's mother, Edna Smith-Rhodes.
Joseph took a welding job. Eventually, Edna worked at a school cafeteria which helped them buy their own home in 1979 for $24,000. Unfortunately, Joseph passed away following blood-circulation issues. Eventually, Edna began showing signs of Alzheimer's. Tawanda's brother who lived nearby would care for her, but he became sick and died in 2004. This led Edna to be placed into a nursing home, signing her up for MassHealth, the state's Medicaid program, in the process.
Tawanda's relief for her mother's care was eventually turned into fear as she learned of MassHealth "robbing people of their homes" to pay for medical bill debt.
In a swift response, Tawanda was given notice that MassHealth had put a lien on the house just a few weeks after Edna's admission into the home. Tawanda immediately took her off Medicaid by agreeing to care for her at home, removing the lien while still receiving benefits.
Tawanda and her husband, Oliver, ended up moving from Brooklyn to Boston to care for Edna full time. While there, the couple used the $100,000 in their savings bonds, to pay off Edna's second and third mortgage. They also renovated the home, replaying the shag carpets, refinishing the floors, painting the walls, and more.
More Struggle
Unfortunately, Oliver was diagnosed with Alzheimer's in 2007, forcing Tawanda to care for both her mother and husband. She would take them to their doctor's appointments, bathe them, change their diapers, and cook their meals. She only had an hour of personal time at the end of the night once the two were put to bed. Tawanda would drink an apple martini and read during this time.
Once Edna died in 2009, Tawanda received a letter from the Massachusetts Office of Health and Human Services that stated they were seeking reimbursement for Edna's Medicaid payments, which totaled $198,660.26.
MassHealth sent her a 28-page itemized bill that detailed every treatment and medical help she received. She was given only six months to pay the debt. If not, she would begin accruing a 12 percent interest rate. If she couldn't afford, which she couldn't, the state would force her to sell her home.
She still cared for Oliver, who was in the late stages of Alzheimer's, so she couldn't lose the house. Her alone time was spent researching Medicaid, looking for ways to avoid losing her home.
Medicaid Exceptions 
In her research, Tawanda discovered two exceptions, which would protect her from losing her home. One stated that they wouldn't seize the house occupied by a spouse or child of the late recipient until they died or moved. The other stated one claiming financial hardship. The exemption also included "adult child caregivers."
However, she didn't qualify for either of them. Additionally, the lien previously removed from her home was reinstated. They had not let her know that they could do this.
Her attorney advised her to accept a deal that allowed MassHealth to keep its claim and let her remain in the home until her death. However, the contract essentially sets her up for failure, as if she falls behind on payments or doesn't keep up with repairs, she'd have to leave.
Tawanda refused the deal. She knew that she would be set up for failure. The home already needed repairs that she couldn't afford to fix. She knew that any day the state can force her to sell her home, but she remained put.
Medicaid Estate Recovery Program
In 1993, Bill Clinton signed the Medicaid Estate Recovery Program as part of his deficit-reduction act. Originally, states could seek reimbursement for Medicaid debts but didn't have to. Now, it was made mandatory. This policy fits into the political rhetoric surrounding individual responsibility. This idea was sparked by fears that taxpayers would be taking care of those who wanted to abuse the system.  
Essentially, estate recovery would help states recover costs where Medicaid spent most of its funding – long-term care, such as nursing homes.
Many states were against it. The last state to enact these recoveries was Michigan. The reason for this was because the federal government threatened to cut all Medicaid funding if it didn't. Some states were more lenient in many cases, only collecting extremely valuable assets. Others were not as kind.
Soaring Medicaid Spending
The purpose of this new law was to ensure that the Baby Boomer generation would not bankrupt it. As expected, this generation cost the system millions of dollars. States' spending on Medicaid increased from $137 billion to $577 billion between 1994 to 2017, which marked the year the oldest Boomers hit their 70s.
Long-term care was where the bulk of the spending came from. Roughly 50 percent of the country's 1.4 million nursing home residents were covered by Medicaid. Many of these individuals' care is often denied by private insurers and even Medicare.
While many defend estate recovery by saying it controls long-term care and provides a necessary check on those they say have the ability to pay for their care, many still see it as harmful.
A study by the Public Policy Institute of the AARP discovered that in the first ten years of the mandated estate recovery, states recovered jumped from $72 million in 1996 to $347 million in 2003. However, this only equaled less than one percent of what Medicaid spent on nursing homes in 2003.
Many oppose mandated estate recovery. They believe that undermining low-income families does not justify the minimal value they are receiving.
What You Can Do 
Estate recovery works because of how little people are aware of it. Even though all states must and do mention and explain this policy in their enrollment forms, it often goes unnoticed, buried in the fine print. It is easy for those in dire straits to frantically look through these documents and never notice it as they are more focused on seeking urgent and necessary medical care.
For the case of Tawanda, MassHealth states this policy on the 20th page of its 34-page application. "To the extent permitted by law, and unless exceptions apply, for any eligible person age 55 or older, or any eligible person for whom MassHealth helps pay for care in a nursing home, MassHealth will seek money from the eligible person's estate after death," it states.
These recovery claims typically come right after you have lost a loved one. You are now told that their legacy and what they've left behind is also being taken. However, there are ways to protect yourself.
You can protect your assets by "putting them into an irrevocable trust or transferring a deed to a family member before you reach retirement age." By planning ahead, you can save yourself further heartbreak.
Having the assistance of a trusted nursing-home abuse attorney on your side can help you avoid any and all issues you may face when looking to care for your elderly loved one. Wormington & Bollinger is here to ensure that you and your loved ones are protected from any wrongdoing and can protect your home and your assets. Contact us to learn how we can help you.