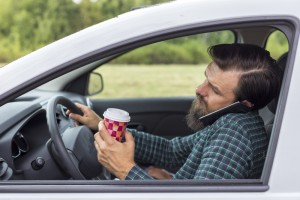 Unfortunately, distracted driving is on the rise in the United States, resulting in thousands of preventable deaths every single year. In 2017 alone, there were an estimated 40,100 motor vehicle deaths and distracted driving contributed to the loss of 3,166 of these lives. In Texas alone, 1 in 5 accidents involves distracted driving, which is why the Texas Department of Transportation (TxDOT) has launched several campaigns to raise awareness of the dangers linked to distracted driving.
In order to truly understand the seriousness of distracted driving, we must look at what falls under this category. Distracted driving is a pretty broad category, including such actions as driving while talking on the phone, putting on makeup, changing the stereo, and of course texting while driving. With the high number of smartphones in our society today, it is no wonder we have seen an increase in car accidents and deaths in recent years.
Regardless of how "good" you think you are at driving while distracted, these actions can lead to serious accidents, injuries, and deaths. Chances are we've all zoned out a time or two while driving, as there are numerous distractions in today's busy world. However, it is those that make the conscious decision to take their eyes from the road that typically cause the most serious of accidents.
What is Distracted Driving?
Distracted driving is defined as any action that diverts the driver's attention from the road. There are three different types of distracted driving:
Visual – Anytime you take your eyes from the road
Manual – Anytime you remove your hands from the wheel
Cognitive – Anytime your mind wanders away from the task at hand: driving
Some of the most common examples of these different types of distracted driving include:
Eating
Drinking
Tending to children or other passengers
Daydreaming
Using electronics
Texting
Talking on the phone
Putting on makeup
Reading
Using your navigation system
Smoking or vaping
Looking at maps
Shaving or grooming
You may think that many of these actions are too far-fetched for anyone to actually do while driving, but unfortunately, that is not the case. Any of these above distractions can endanger other drivers, passenger, and yourself.
Who is Liable for Distracted Driving Accidents in Texas?
In Texas, if you have been injured in a car accident that was caused by another person's distracted, you may have the right to seek compensation for your injuries. Because these types of accidents are on the rise, it is important you obtain legal counsel immediately following the accident. We recommend doing so before you discuss the accident with an insurance adjuster, as these companies often try to settle out of court, resulting in you getting less than you deserve. Although Texas and many other states have recently passed laws aimed at reducing the number of distracted driving accidents, individuals continue to make poor decisions that put others at risk. Our McKinney personal injury lawyers are here to discuss your case with you and ensure you receive the compensation you deserve for your injuries or losses. To learn more about distracted driving in Texas, please give Wormington & Bollinger a call today.