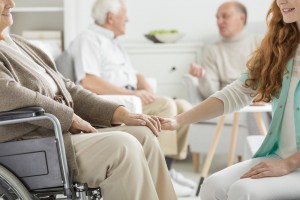 Making the decision to admit your elderly loved one to a nursing home is probably one of the most difficult things you will ever do. You may feel guilty about this decision, especially because of all the stories of abuse and neglect that take place in nursing homes these days. When you are just starting to look at the various assisted living communities in the area, it can be difficult to know which facilities will offer the highest level of care. It is easy to assume that the nicest and newest facility will be the best, but this isn't always the case.
There is no question that nursing home residents are in a vulnerable position, as they must rely on caregivers and nurses to provide the care and attention they need. Many of these people require 24/7 assistance, with everything from medical and health concerns to daily living activities and finances. There are numerous federal and state laws in place designed to safeguard nursing home residents' care, but unfortunately, abuse and neglect happen on a regular basis. If your senior parent is in a nursing home on the other side of the country, making sure they are safe and being well-cared for can be even more difficult. When looking at nursing homes and trying to find the one that will provide the best care for your loved one, it's important to educate yourself about what these facilities can and cannot do. This will save you a lot of confusion down the road, and set you up to hold the facility accountable. We've talked a lot about nursing home abuse and the duty of care required by these facilities, but today let's look at a few things nursing home are not allowed to do:
They cannot discriminate – By federal law, nursing homes cannot discriminate against potential residents based on race, color, religion, age, sex, or any other characteristic. If you believe an assisted living facility turned your loved one down because of one of these reasons, you may have a lawsuit on your hand. Not only should this type of discriminatory behavior be reported, but they should also be held accountable by way of a lawsuit.
They cannot impose fees outside of what you have in writing – When you first admit someone to a nursing home, they must state in writing, which services they will provide and what the fees associated with these services are. If you come to learn your loved one's needs changed and they were charged other fees, this is illegal.
They cannot be verbally or physically abused – It is against the law for nursing home residents to be physically or verbally abused, either by the nursing home staff or other residents. If you discover this is going on, it is important you report it right away and contact a nursing home abuse lawyer.
They cannot deny the resident visitors – All nursing home residents are allowed to have visitors at reasonable times of the day. If the facility denies an approved visitor, it could be cause for concern – and it's illegal.
They cannot withhold medical treatment or information – A nursing home has an obligation to provide residents with the medical care and attention they need, regardless of whether these needs change. If your loved one is denied care or information regarding their physical condition, they may be in violation of the law.
Nursing home abuse is a serious problem that comes in many different forms. If you believe your loved one has been abused or neglected while under the care of an assisted living facility, please contact Wormington & Bollinger. Our McKinney nursing home abuse lawyer will sit down with you and determine whether you have a case or not.