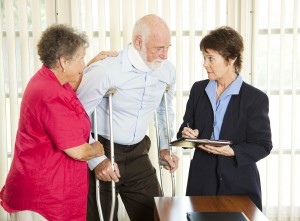 Many people do not realize this, but personal injury claims are among the most common types of legal actions that occur on a daily basis. We see hundreds – if not thousands – of personal injury cases brought to the U.S. court system every single day. From incidents that stem from car accidents to medical malpractice suits, slip and fall cases, and dangerous drugs or defective products, personal injury cases come in all different shapes and forms. Personal injury cases occur when a person is injured – or worse – due to the negligence, carelessness, or reckless acts of another individual. When someone is injured because of a negligent act, he or she may have the right to sue the at-fault party to recover damages that the victim sustained as a result of the injury.
As mentioned, personal injury cases cover a wide scope of actions that enable the injured party to obtain compensation from the reckless party in order to be reimbursed for the damages that were sustained due to the accident or defective product. Here at Wormington & Bollinger, our Irving personal injury lawyers have what it takes to fight for your rights and help you get the compensation you deserve for your injuries. If you believe you have a personal injury lawsuit on your hands, give our McKinney law office a call today and let us get started on your case. It is important to note that some types of injuries that lead to lawsuits in the name of personal injury are more common than others.
Here is a look at a handful of the most common personal injury lawsuits that we have seen:
Defective Product Lawsuits. Defective products are extremely dangerous for many different reasons, namely because people trust that the products they are buying are safe to use. Even though all products are required by law to be manufactured safely, this does not always happen. When they are not, strict liability can apply – which means that the manufacturer of the product can be held liable, even if they were not negligent in producing the actual product. These cases can be very difficult to prove, which is why it is important you have a McKinney personal injury lawyer by your side.
Dangerous Drug Lawsuits. Drugs are considered a product, which means they are also held to safety standards. Unfortunately, unsafe drugs are released at an alarmingly high rate. In some instances, this leads to litigation in the form of class action lawsuits against the drug companies. However, you may also be able to bring a private lawsuit, depending on your case.
Medical Malpractice Lawsuits. Medical malpractice is another extremely common type of personal injury claim. These types of instances occur when a doctor, nurse, or other healthcare provider fails to provide patient care that meets or exceeds an acceptable standard of care, and the patient sustains an injury as the result. Medical malpractice lawsuits are very serious, but they can also be challenging to prove.
Slip and Fall Lawsuits. Stores and all other public places have a duty to make their premises safe for you. In the event they do not do this and you fall and injure yourself, you may be able to recover damages from the owner of the property. Slip and fall accidents – which we oftentimes see in the form of premises liability cases – are quite common.
These are just a few examples of the most common types of personal injury lawsuits. If you would like to learn more about these types of cases, or would like to discuss your particular case with one of our attorneys, contact us today.