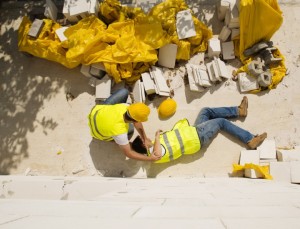 Working in the construction industry is one of the most dangerous jobs there is. Construction accidents lead to thousands of injured or killed workers every single year. At Wormington & Bollinger, we understand how difficult it is to go find the proper legal protection if you have been injured in a construction accident. As a responsible construction worker, you undoubtedly understand the dangers of your work site and strive to take the proper precautions, wear the right safety equipment, and never take unnecessary risks that will violate code or put you in danger. However, you can still find yourself sustaining a serious injury while on the job, even if you have followed protocol and done everything right. Wormington & Bollinger serves individuals in the Dallas-Fort Worth area who have been injured or killed in a construction accident. We will help you, either by navigating Texas' worker compensation system with you or pursuing a legal claim on your behalf.
It is important to remember that even though construction sites are dangerous places to work, this does not mean your supervisors or the company you work for are off the hook when it comes to their employees becoming injured. It is the responsibility of those in charge to ensure employees are kept safe and work sites are clear of as many dangers as possible.
At Wormington & Bollinger, our team is committed to ensuring that all legal issues resulting from a construction accident are handled with the utmost respect and professionalism. We represent individuals throughout Texas in construction accident claims, which may involve:
• Scaffolding accidents
• Forklift accidents
• Unsafe work conditions
• Electrocution
• Ladder accidents
• Crane accidents
• Side debris accidents
• Hoist accidents
• Unsafe construction work sites
• Explosions at construction sites
• Burn injuries
• Falling object accidents
• Worker accidents
• Workers' compensation
• Heavy machinery accidents
• Tractor or bulldozer accidents
• Accidents involving pressure vessels and other types of construction equipment
As supervisors and general contractors are responsible for providing appropriate safety provisions that ensure a construction site is reasonably safe, they are obligated to do the following:
• Warn of possible hazards at the work site
• Coordinate job safety
• Hire employees that will comply with safety regulations and use caution while working
• Check that all safety specifications are followed
If you have been involved in a construction accident, please contact Wormington & Bollinger today and see how we can help you. With aggressive litigation and compassionate support we have helped clients in cities like Dallas, Fort Worth, Arlington and Plano to get what they truly deserve.