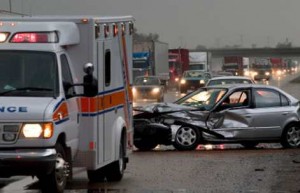 A car wreck can leave you with very serious injuries as well as financial, medical, and emotional burdens. Here at Wormington & Bollinger, our lawyers understand how difficult these types of situations can be and are therefore committed to doing everything we can to help you receive the compensation you deserve. If you have been seriously injured in a car wreck in McKinney, Denton, Frisco, Plano, Richardson, or a surrounding Texas city, contact Wormington & Bollinger today.
A car wreck can affect everything, including your health, family, income, and emotional well-being. As a well-respected McKinney law firm, Wormington & Bollinger attorneys are here to help you navigate the legal system. If you have been involved in a car wreck that occurred as the result of someone else's negligence, there are legal actions you can take to help you get back on your feet.
Understanding your rights and working with a knowledgeable attorney from our law firm are just a couple of the steps you can take to get your life back on track.
Common Causes and Types of Injuries
There are many different causes of car wrecks, all of which can result in serious injury and even death. Whether another driver caused a car wreck because they were talking on the phone, eating, texting, distracted by a passenger, speeding, driving under the influence, or messing with the radio station, they should be held responsible for your injuries.
Some of the most common types of injuries that occur as a result of a car wreck include the following:
Whiplash
Broken Bones
Brain Injury
Spinal Cord Injuries
Internal Injuries
Seat Belt Injuries
Airbag Injuries
How We Can Help Victims of Car Wrecks?
When you work with attorneys from Wormington & Bollinger, you can rest assure that we will do everything in our power to help you come out on top legally. We will immediately begin the process of investigating your car wreck and filing the accident injury claims that will help you receive the compensation you need.
At Wormington & Bollinger, we offer a free consultation that will allow us to meet with you and discuss your case in-depth. Whether you have suffered a serious injury that is keeping you from working, caused emotional trauma, or has led to high medical bills, we are here to help.
Contact an attorney from Wormington & Bollinger today to learn what we can do for you and how our representation can help after a car wreck in McKinney, Denton, Plano, Richardson, or Frisco.