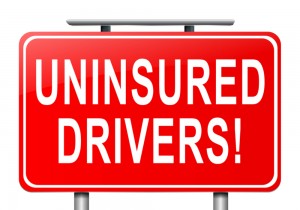 While it is legally required for a driver to have some sort of basic insurance plan in almost every part of the United States, unfortunately, the reality of the matter is that there are a lot of uninsured drivers out on the Texas roads. According to the Insurance Research Council, 1 in 8 drivers do not have car insurance. It can become quite a scary situation when you are involved in an accident with a driver that does not have car insurance, so let's discuss what you should do if you find yourself in this situation.
First, call the police
Regardless of if the other driver has insurance, the first thing you should do is alert the authorities. You will need the police report later for insurance claims or potential legal claims.
Don't accept money from the uninsured driver
It isn't entirely uncommon for uninsured drivers to offer you money in order to avoid legal claims. While it is impossible for you to accurately quote how much your damage will cost, you should insist on going the proper route and not accept any payment from them at the scene.
Take pictures of the accident
You will want to take pictures of any damage that occurred in the accident. Take pictures of your car from multiple angles, up close shots of damage, their car (specifically their license plate), as well as the location. The more information you can gather and the more proof that you have, the better.
Trade information with the other driver
Even though the other driver does not have insurance, you need to gather all of their contact information and details. Get their name, phone number, address, license plate, car make, model, and color.
Write down all the details of the accident
There are various important details that you should have just in case for filing an insurance claim through your own company, or if you end up needing to take legal action. You will need to write down the time and location of the accident as well as the police man's name and badge number who filed the report. If you can, ask the police for a copy of the accident report as well.
You should always write down the details in these sorts of situations as the rush of adrenaline from the accident can lead to a foggy memory of the details later on. You will need to have all of this information on hand so that your personal injury attorney in Dallas can help you get the compensation that you deserve for any medical expenses.
Next, you will need to contact your insurance
You now need to contact your insurance company and file a report of the accident with them. You need to make sure they are aware that the accident involved an uninsured driver. Make sure that when you call your insurance company that you have all the information that you gathered ready, as well as your insurance policy number and member ID.
In accidents involving uninsured drivers, a lot of complicated matters can arise. To make sure you have a just case, you will want to have a car accident lawyer at your side. If you are looking for a trusted and experienced legal team, here at Wormington and Bollinger, we can help.