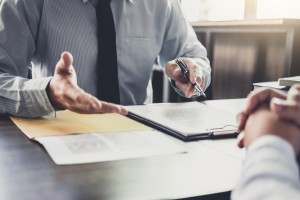 Being involved in an accident of any kind is a stressful experience, especially if injuries are suffered. One of the most difficult things to navigate is when to call a lawyer. While some car accidents are minor and can be sorted out between the drivers on their own, others are quite serious and require an attorney to help sort out the details and legal consequences. However, it is important to keep in mind that even seemingly straightforward wrecks can be complex and could benefit from the knowledge and expertise of an attorney.
Contact a Lawyer Before It's Too Late
As a general rule of thumb, it is never too soon to contact a lawyer following an accident. Here at Wormington & Bollinger, we offer free consultations and encourage accident victims to give us a call right away. As a general rule of thumb, you should call a lawyer if any of the following have taken place:
Who is at fault is up for debate
The crash resulted in serious injury
The accident involved other drivers, pedestrians, or cyclists
The accident took place in a school zone or construction zone
The police report is misleading
Your insurance company is not moving forward with your claim as you had hoped
You or another driver does not have the proper insurance
These are just a few examples of when you should definitely contact a lawyer after an accident. Please keep in mind that every accident is unique and may have different needs. Many people are in shock following an accident, which is only natural. If possible, try to calm down and think logically about your situation. If there is any doubt in your mind that the situation is not being handled properly, call a lawyer.
How a Lawyer Can Help
It can be difficult to know whether you are in need of an attorney following a car accident or not. The above tips should give you some direction and help you understand when a lawyer could come in handy, but there are of course many other situations not mentioned that a lawyer could help with. Again, if the accident resulted in any kind of serious injury that required a visit to the doctor, you should consult with a McKinney personal injury lawyer.
Our lawyers can also help in cases involving fatalities, or when the police report is inaccurate and does not describe the events of the accident as they occurred. If you are accused of being the at-fault party, but you believe it was someone else's fault, please give us a call today. The longer you wait, the more complicated the case can get, and you may even miss your window to file a lawsuit. To learn more about your rights following an accident, or about how a lawyer may be able to help, please contact our McKinney personal injury law firm today and schedule an appointment.