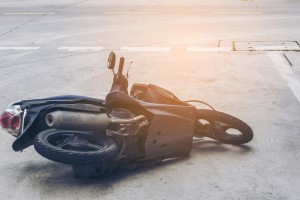 Being involved in a motorcycle accident can be one of the scariest events you will ever go through. While motorcycles are a great – and fun – mode of transportation, they also pose inherent risks. Every time you step onto a motorcycle, you are putting yourself at risk of being involved in a serious, life-changing accident. This is why it is so important to take all the necessary safety precautions. With more and more people moving to Texas, we are seeing an increasing number of vehicles on the highways and city streets. Unfortunately, the majority of serious motorcycle accidents are caused by distracted drivers or drivers who simply do not see the motorcyclist. Because motor vehicle operators often do not look when changing lanes or pay close enough attention to motorcyclists, it is up to you, as the motorcycle, to pay even closer attention to your surroundings.
If you have been involved in a motorcycle accident in McKinney, one of the first things you should do is contact a lawyer. At Wormington & Bollinger, our personal injury lawyers have extensive experience representing clients on these types of cases. We understand just how stressful and scary a motorcycle accident of any kind can be, which is why we are dedicated to fighting for your rights and ensuring justice is served. Here are a handful of steps that should be taken immediately following a motorcycle crash in McKinney:
Seek medical attention - Before you do anything else, make sure you and any other individuals involved in the accident are OK. Many injuries do not show up right away, so it is important to be checked out by a medical professional to make sure you do not have any internal injuries. If you are experiencing pain at all, please see your doctor immediately.
Contact the police – Once you make sure you and everyone else involved are injury free, contact the police. Depending on the nature of the accident, police presence is necessary in these types of situations. Make sure you never admit fault and stay calm, as these factors can contribute to your settlement or the case, should it go to trial.
Collect information – Exchange information with the other drivers and anyone else involved. Make sure you get their name, address, phone number, insurance information, and the license numbers of all drivers. Get their license plate numbers, car make and models, and a description of the vehicles.
Pay attention to your surroundings - If the accident was not your fault, this step is particularly important. While this may be difficult, depending on how seriously you were injured, try to take notice of any important information about the accident. What were the road conditions like? What was the speed limit? Were people speeding or texting? What was the lighting like? All of these factors could contribute to the outcome of your case.
Talk to witnesses – After you collect information from the other drivers involved, talk to any witnesses that may be able to offer insight as to what happened. Again, this will depend on how badly you were hurt, but if possible, record their comments as soon as you can.
Contact an attorney - Last but certainly not least, contact an experienced motorcycle accident attorney to discuss your case. Regardless of the circumstances surrounding the accident, this is an important step that could help you recover damages.
If you were involved in a motorcycle accident, please contact the McKinney personal injury lawyers at Wormington & Bollinger today to schedule a free consultation to discuss your case.