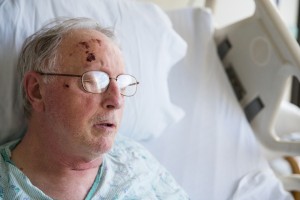 Healthcare providers have a big responsibility towards their patients in keeping them healthy and also in ensuring that they are protected from health hazards. Prevention is just as important as the treatment/cure journey of a patient. Prevention not only includes keeping patients protected from other diseases/health conditions but, also should focus on preventing any kind of accident as a result of the patient's current health condition. For instance, thousands of elderly or disabled patients experience life-changing falls in hospitals and in nursing homes that can worsen their health. These falls happen at the most unexpected time, like when the patient simply gets up to use the restroom. Fortunately, many fall risk assessment tools have been developed to predict and manage each patient's vulnerability to falling. Most of these tools have a scale that can predict a patient's risk and help healthcare providers such as nurses to reduce risk factors, implement strategies to help patients with activities where the risk of a fall is high and to look for more fall prevention resources suitable to a patient's condition.
Some of the most popular and effective fall prevention tools include the
Morse Fall Scale – Rated by more than 89% nurses to be one of the quickest and easiest ways to rate a patient, the Morse Fall Scale is an easy and fast way to assess a patient's fall risk. It consists of six variables against which the nurse evaluates the patient;

History of Falling (within last 3 months)
Is there any secondary diagnosis other than the one listed in medical records
Mental Status focuses on how well the patient's self-assessment matches with external health assessment. If the patient thinks that he or she can walk without crutches but ambulatory orders state otherwise, that means that he or she will score low on this measure.
Ambulatory aid (or does the patient need a wheelchair, cane, crutches etc.)
Gait focuses on whether the patient's posture allows him/her to stand, walk, sit etc. correctly or not. A weak gait (or a low score on this measure) indicates that the patient cannot lift head, arms or feet properly to maintain balance.
Intravenous Therapy
Hendrich Fall Risk Assessment – this is a more detailed assessment of risk and the measures include assessment of risky medication categories such as anticonvulsants and benzodiazepines. Other measures include depression, confusion, dizziness and different measures to assess ability to stand up.
The STRATIFY Risk Assessment tool – This is a relatively shorter assessment but one that is more like the Morse Fall Scale. It includes factors such as history of falls, mental status, vision, frequency of visiting the toilet and mobility.
Standardized fall risk assessment has made things much easier for healthcare providers as it provides a helpful guide to the kind of support and care each patient needs. It is very important for every relevant healthcare facility to use the assessment most suitable to their setting and to train their staff to use to prevent falls. Furthermore, patients and their loved ones should make sure that they inquire about the kind of tools used for fall prevention in their current or prospective healthcare facility. The Texas Nurse Practice Act requires all nursing staff to conduct an individualized nursing assessment and develop a corresponding individualized nursing care plan.
If you or a loved one has experienced a fall in a nursing home or a hospital in Texas and you think it may be due to negligence you should contact a medical malpractice attorney. Wormington and Bollinger offers an expert team of attorneys experienced in fighting for patients who have experienced falls that could have been prevented with more attention and care. Contact us today to discuss your concerns about the fall you experienced due to medical negligence.
Note: Each scale is calibrated differently according to the healthcare setting that it is conducted in, so the result for one patient will present a different level of risk in different medical settings. The level of risk will vary from a hospital, to a nursing home to a rehab center depending on how well equipped their medical facilities are.